Captain Robert d'Arcy
Robert is a licensed United States Coast Guard 100 ton Master, a captain of Martha, and the project manager for all of her restoration projects. Martha has been under the stewardship of The Schooner Martha Foundation since 1996. Each year, Robert completes major restoration projects on Martha with the help of many volunteers. Captain d'Arcy grew up sailing on the East Coast with his family and building boats with his father. He worked at Mystic Seaport Museum for 5 years doing historical research, and as shipwright helping to restore the Charles W. Morgan. He and his family had the chance to sail with the crew of the schooner Alcyone in the Pacific in 2005-2006 in the Pacific.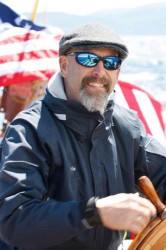 Holly Kays d'Arcy
Holly worked for Sound Sails in Port Townsend and gained experience on local schooners. In the summer of 2001 she was able to join the Alcyone family to sail from Maine to Galway, Ireland, and again in 2005-2006 in the Pacific. Holly continues to work part-time, seasonally for Sean Rankins at Northwest Sails. Robert and Holly's daughter Mary was born in the spring of 2003. Since then, Mary has been an integral part of the crew on board Martha.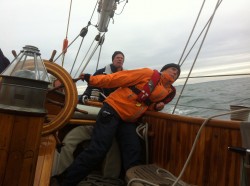 Captain Mary Beth Armstrong
Mary Beth holds a United State Coast Guard 100 ton Masters license. She has an extensive background in maritime education and sail training and is an important edition to our crew. For the last 16 years Mary Beth has been creating and leading experiential programs both on and off the water. Captain Armstrong has worked on boats from 26 ft. to 137 ft., and has led outdoor organizations such as Outward Bound, Sound Experience and Sea Education Association. Mary Beth teaches maritime history and skills at local high schools on the Olympic Peninsula and is past captain on Sound Experience's Crowninshield schooner, Adventuress. She and her husband, Peter Sigmond and sons, Reid and Caleb, look forward to being a part of Martha's crew for years to come.
Anne Aldrich
Anne is a sail maker, outdoor educator and licensed captain from Port Townsend Washington. Martha has been a part of her life since she was 11 years old. She earned a spot as deckhand during her teen years and now she is excited to join Martha for her offshore year.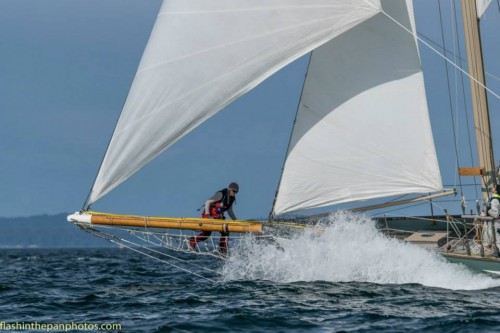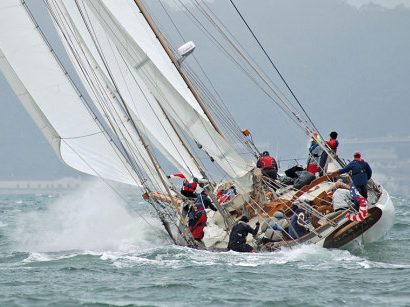 ---
Support youth sail training programs.